Learning to Paraglide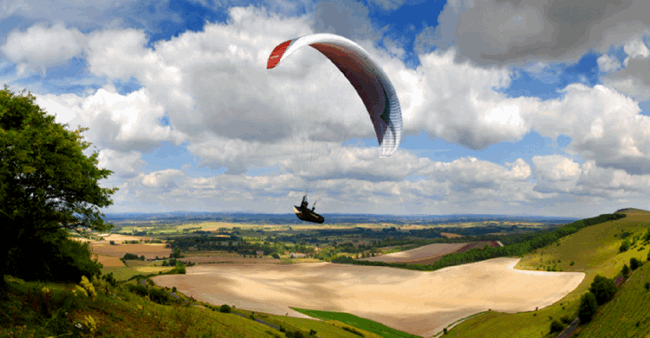 Have you ever dreamed of soaring like a bird?
Airworks can make that dream a reality. Paragliding can be enjoyed by people of any age - you can learn to paraglide in as little as ten days and they don't have to be consecutive days, you can spread the training over several weekends or whatever best suits you.
With our expert tuition you will quickly develop the technique to become a competent pilot; strength is not a requirement. We have private sites covering all wind directions, ideal for the early days.
Our Club Pilot training includes the top landing and slope landing skills rarely taught abroad but required to fly safely in the UK.
Training Courses & Gifts

Beginner to Club Pilot Course - £1399 - SALES PAUSED UNTIL FEB
By purchasing your complete training course when you start training, or immediately after a taster day, you save significantly on the cost of the two separate courses. Ten days training, but more importantly if you upgrade this to a package deal, we will teach you until you achieve CP, even if it takes 40 days! You will need to join the BHPA as a full member (£149/year) when you arrive here.

Fast Tracking and Upgrading to a course
We have, with no shadow of doubt, the most committed group of instructors, dedicated to actually teaching you to fly. We go the extra distance every time to ensure that your learning experience is both enjoyable and effective. We don't offer any gimmicky fast tracking options; all of our students are on the fast track if they so desire, we don't charge extra, you just need to be available. Alternatively, if you wish to learn at a more sedate pace, we can help there too. If you have completed a taster day with us or another BHPA school and you wish to progress your training towards Club Pilot(Novice) level please select the appropriate upgrade below. You will have to join the BHPA as a full member (currently £149p.a.) when you come for your next days training:
Upgrade Taster Day to Elementary Pilot - £590

Upgrade Taster Day to Club Pilot - £1249 - Paused until FEB

Package Deals
By purchasing your equipment together with your training course when you start training, or immediately after a taster day, you can make huge savings!
(Package deals are sold through Winging It)
Bronze package - £3500, saving over £560: Pro Design Cuga wing, Skyman Hike harness, 10 day club pilot course.
Silver package - £5399, saving over £850: Advance Alpha wing, Skyman Looping harness, Skyman Ultracross Reserve, Plus Max Helmet, Flymaster GPS Vario and Open-ended club pilot course.
Gold package - £6399, saving over £1000: Advance Epsilon 9 wing, Advance Lightness harness, X-Dream X-Triangle steerable reserve, Hi Tech Helmet, Flymaster GPS Vario and Open-ended club pilot course.
Bronze Package


Silver Package


Gold Package

Find Us
Airworks Paragliding Centre |BHPA Registered School No. 282 | Unit 4 Stone Cross Farm Industrial Estate | LAUGHTON | East Sussex | BN8 6BN | Shop Tel. 01273 434002 | Weathercheck Tel. (01323) 811770 | email: info@airworks.co.uk © 2018 Airworks Paragliding Centre
---
---
Before You Book
Before you book, please read our terms and privacy policy.
Age limits: Dual flights - 12 (can be waived in exceptional circumstances,) One Day Introduction & EP - 14, Club Pilot - 14.
Please Note: Lessons do not have to be taken on consecutive days and may take more or less days than stated, depending on the individual's ability. It is advisable not to leave too much time between lessons, as progression through your course will be detrimentally affected. If you leave more than one month between lessons, you will be required to purchase an additional days training (£99) for each month without flying. Courses must be completed within 12 months of commencing. On all our courses we will only fly if it is safe to do so and in this regard the Duty Instructors decision is final.
BHPA Membership
Membership to the British Hang Gliding & Paragliding Association is mandatory because it covers you for third party liability. This is taken out on arrival at the school.
Day membership is £18 and full annual membership is £128.
Personal Accident Insurance
Aviation is inherently dangerous and can result in injury or death.
Personal Accident Insurance is not included in your BHPA membership nor is it currently available through the BHPA. We strongly recommend that you take out Personal Accident Insurance for the duration of your paragliding course. You would have to arrange this prior to your lesson(s). We are aware that Sportscoverdirect offer such insurance